ACity Set To Offer Robotics & Biomedical Engineering
As a futuristic institution focused on developmental engineering, Academic City University College, Ghana became the first tertiary institution in Ghana to launch a duly accredited hands-on premium Bachelor of Science first degree program in Robotics Engineering at a press briefing on their campus on Wednesday, January 27, 2021. The event also marked the announcement of ACity's top-end B.Sc. Biomedical Engineering program.
The 4-year extensively practical programs are designed to equip students with the requisite skills and new know-how to excel in the workspace of the future which will be driven by robotics, artificial intelligence, and biomedical.
Reiterating the institution's core mandate during the event, Dr. Lucy Agyepong, Associate Dean of the Faculty of Engineering said, "We need a new generation of thinkers and innovators who can combine human-centered, cross-cultural, design principles with social sciences and humanities to define problems and develop solutions within the community. Academic City is a strong champion of development engineering, an emerging field of academic inquiry and best practices that seek to collaborate with local communities, industries, academia so that we can co-design, co-define and co-produce solutions."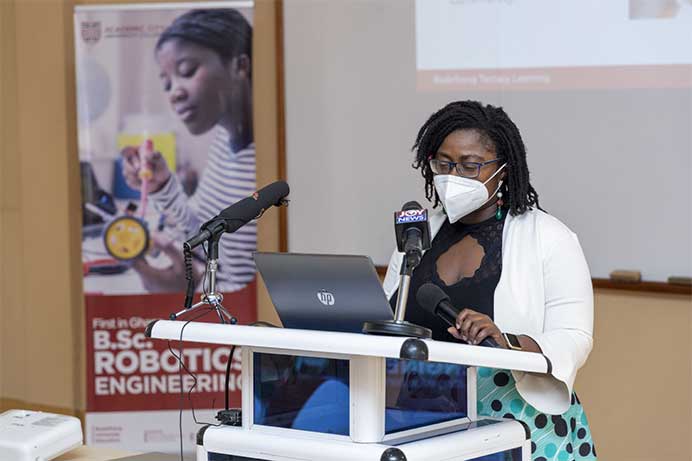 According to a publication on www.techjury.net on July 28, 2020, 88% of businesses worldwide plan to adopt robotic automation into their infrastructure, with robotics already employing about 150,000 people worldwide in engineering and assembly jobs. The publication also revealed that there would be a 12% increase in shipments of robots worldwide between 2020 and 2022.
Global robotics industry statistics also revealed that between 2017 and 2020, the number of industrial robots alone installed across industries worldwide could exceed a total of 3.05 million.
As the world shifts to finding quicker, efficient yet cheaper alternatives to take on high-risk jobs, Academic City's groundbreaking Robotics Engineering program focuses on the Design, Automation, Construction, Usage, and Management of Robots. The goal of the institution is to groom local experts ready to champion the transformation of Africa through the use of fast-growing advanced technology.
The launch of Biomedical Engineering could not have happened at a better time. Given the current global health crisis, it is incumbent to marry health science and engineering to expedite the solution-finding process of health-related issues. The program would prepare students to develop medical systems, devices, and equipment to manage, and improve healthcare delivery and medical practice.
Speaking on the mode of deployment, Prof. Fred McBagonluri, President of Academic City Unversity College, Ghana revealed, "We are interested in pioneering courses in this area but in an integrated manner because each of these programs has to be combined in a unified way so that they can become relevant to real-life practical application."
These new additions are set to corroborate ACity's advocacy for a paradigm shift to a collaborative project-based and, experimental teaching and learning in education across Africa.
To find out more about the courses and how to apply, kindly visit our website: https://acity.edu.gh/