Academic City University College has marked its annual matriculation ceremony with a pledge to nurture a new generation of problem solvers who will employ innovation to advance the development of Africa.
At the ceremony, the university emphasised its commitment to nurturing students who will be equipped with the skills and mindset needed to tackle real-world challenges and create positive change in their communities.
Academic City's matriculation ceremony welcomed a total of 195 students comprising nationals from 14 different countries, who have enrolled for the 2023 academic year to pursue the university's uniquely designed STEAM-based academic disciplines.
Prof. Fred McBagonluri, President and Provost of Academic City, stated while welcoming the incoming freshmen that the university was on the right track to alter the narrative of higher education in Ghana by providing students with a quality education that prepares them for the demands of the modern workplace.
"One of the ways we are accomplishing this is by emphasising experiential learning. In contrast to traditional universities, where students are frequently passive recipients of information, we seek to make learning an active and engaging experience. With hands-on projects and authentic experiences, we encourage our students to learn by doing. This strategy prepares students for the challenges of the contemporary workplace, where problem-solving and creativity are essential skills," he explained.
"We also recognise the significance of technology in today's world of rapid change. Students must have the skills and knowledge necessary to work with technology. We have integrated technology into the core of our curriculum. Students have the opportunity to learn about the latest technologies and their applications, from coding to artificial intelligence. This ensures that Academic City graduates are prepared to face the challenges of the modern workplace," Prof. McBagonluri emphasized further.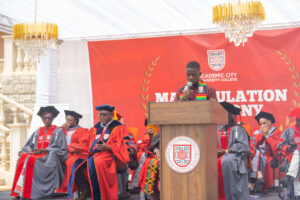 Andrew Kumi, an engineering student, spoke on behalf of the matriculants to express their excitement about beginning their academic journey at Academic City.
"As students, it is our responsibility to make the most of our time at this prestigious university; accordingly, we must maintain focus and avoid anything that will prevent us from achieving our dreams and goals. Having taken the oath, I am hopeful that we will adhere to the oath and make the best decisions so that, at the end of our four years at this university, we will be the most successful graduating class ever "he said.
Academic City is poised to make a significant contribution to the education sector in Ghana and beyond through its dedication to excellence and focus on developing innovative leaders.