Academic City University College and the Millersville University of Pennsylvania have signed a Memorandum of Understanding (MoU) as part of a significant step towards formalising their commitment to internationalisation and fostering cooperation to promote academic excellence.
The partnership seeks to enhance mutual understanding and facilitate collaborative initiatives in areas such as instruction, research, cooperative projects, and student and faculty mobility.
The MoU signing ceremony took place on the campus of Academic City, with representatives from both institutions in attendance. The agreement signifies a commitment to jointly explore various academic initiatives, research projects, and cultural exchanges that will benefit the global academic community.
The key areas of focus in the MoU include:
Student Exchange Programmes: The partnership will enable students from both institutions to participate in exchange programmes, providing them with valuable international exposure and enriching their academic journey.
Faculty Development: Opportunities for faculty members to engage in joint research projects, teaching collaborations, and professional development programs will be facilitated, fostering the exchange of expertise and knowledge.
Development of short-term, dual-degree, transfer-degree, or joint-degree programme: Establishment of specialized academic initiatives that enable students from both universities to pursue diverse educational opportunities.
Prof. Fred McBagonluri, President and Provost of Academic City University College, was enthusiastic about the partnership, stating, "This MOU represents an exciting step towards enhancing our global engagement and will provide new opportunities for our students and faculty. We believe that this collaboration will enhance our students' educational experiences and allow us to aggregate our expertise for the advancement of knowledge and academic research."
"The agreements demonstrate Millersville's commitment to international collaboration and academic excellence," says Wubah. "Forging partnerships with international institutions is a win-win for our students. Millersville students meet and attend classes with international students and faculty, which allows them to learn about different cultures. Students from abroad are introduced to U.S. students, faculty, and all of our country's opportunities.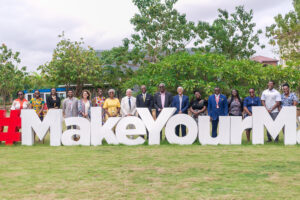 The MOU prioritises exchanging scholarly materials, cutting-edge research development, student partnerships and sharing best practices among faculty members.