Academic City University College organised a beach cleanup at Sakumono Mighty Beach over the weekend as part of activities commemorating five years of providing premium STEAM- and entrepreneurship-focused tertiary education in Ghana and across the continent.
The exercise was inspired by Academic City's desire to promote environmental consciousness and sustainable culture in an effort to have a positive impact beyond the confines of the lecture halls. Students, staff, and local volunteers from McKingtorch Africa, Witties Ghana, Satguru, Wafflemania, Souvenirs and More, and other environmental-focused organisations participated in the initiative.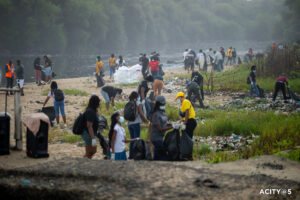 Participants worked tirelessly to collect recyclable waste dumped by storm drains at the base of the Aburi mountain and flood waters from the city. The collection of plastic bottles, discarded footwear, refrigerator forms, and various other materials demonstrated a concerted effort to address the urgent problem of environmental degradation.
It is important to note that the Technology and Entrepreneurship Centre (TEC) of Academic City, in partnership with McKingtorch Africa, will ensure that the collected waste materials are transformed into products that can be reintegrated into the local economy.
Speaking at the event, Ms. Nelly Agyemang Gyamfi, Director of Marketing and Communications at Academic City expressed her gratitude to everyone who participated and supported the exercise.
"Academic City University is more than a school; it is a place for positive change. We believe that by caring for our environment today, we are laying the groundwork for a brighter, more sustainable future," she added.
The Manager of Academic City's Technology and Entrepreneur Centre, Makafui Awuku remarked "Our mission at TEC is to bridge the gap between technology, entrepreneurship, and sustainability. By transforming waste into usable, eco-friendly products, we are not only supporting environmental conservation but also promoting a circular economy."
The exercise also served as a prelude to the upcoming World Cleanup Day scheduled for September 16. Academic City University's participation in this global movement demonstrates its dedication to the larger mission of preserving our planet for future generations.