As part of its 5th Anniversary celebration, Academic City University College recently hosted a public lecture featuring Dr. Ishmael Yamson, a renowned expert in Corporate and Strategic Management. The topic of Dr. Yamson's lecture was "Empowering the Youth for the Future."
Dr. Ishmael Yamson emphasised the importance of youth empowerment in moulding the future during his address. He stated that empowered youth would not only comprise the skilled workforce of the future, but would also serve as progress catalysts, active participants in policy formulation, and champions of sustainable development.
Dr. Yamson emphasised the complexity of youth empowerment, emphasising that it transcends age categorization and encompasses multiple generations spanning multiple age categories. He emphasised the significance of providing the necessary resources, processes, and infrastructure to facilitate the transformation of creative ideas into scalable innovations. To accomplish this, he advocated for the elimination of bureaucratic obstacles in order to secure funding for the implementation of these innovative ideas.
In addition, Dr. Yamson emphasised the importance of a strong support system in fostering innovation, developing leadership skills for future challenges, and fostering resilience and adaptability in a volatile world. As a starting point, he advocated fostering innovation and creativity among the youth.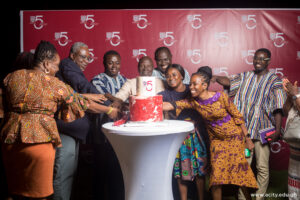 The President and Provost of Academic City, Prof. Fred McBagonluri, reflected on the institution's journey over the past five years. He explained that their mission was to shape youthful minds and equip them to face the world's ever-changing challenges.
Prof. McBagonluri praised the faculty, students, alumni, and staff for their dedication and perseverance in making the 5th anniversary celebration a reality. He reaffirmed the university's unwavering commitment to its mission of preparing future-ready leaders who can solve complex problems creatively within an ethical, entrepreneurial, and collaborative framework.