Academic City University College together with partners Deutsche Gesellschaft fürr Internationale Zusammernarbeit, (GIZ), Appointed Time Printing, Ga East Municipal Assembly and Add Pharmacy have taken a significant step towards promoting healthy living within the Haatso environs. The partners organised free medical screening to provide members of the university community and people within its immediate surroundings with access to valuable health information and services that can help them maintain good health and prevent illnesses.
The event attracted about 500 attendees comprising of students and staff of Academic City as well as residents from Haatso, Bohye, and the surrounding areas, who took advantage of the complementary health screening funded through the develoPPP programme on behalf of the German government.
The health screening covered various aspects of health, including blood sugar levels, eye and dental screening, cholesterol levels, Hepatitis B Testing and vaccination, Covid-19 vaccination and free NHIS registration and renewal. Participants also had the opportunity to consult with medics and receive health advice and tips on how to maintain good health.
Dr. Abena Engmann, Dean of Student and Community Affairs, Academic City remarked "At Academic City, we recognise that our mission to provide our students with a world-class education is dependent upon their health. Because we believe that a healthy mind and body are the basis for success, we have organised this free health screening for our community."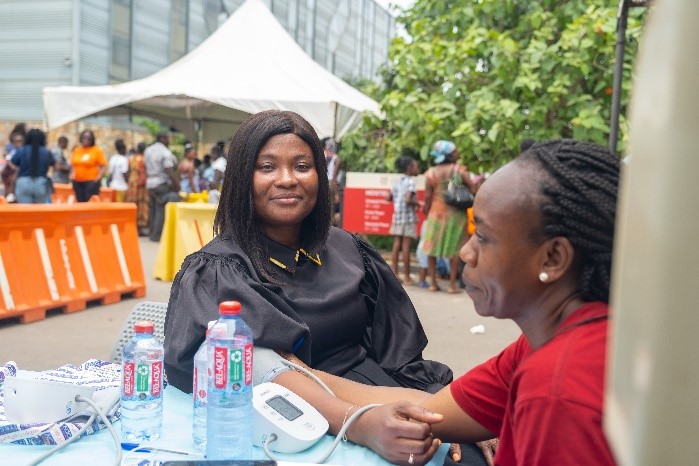 Hon. Elizabeth Kaakie Mann, Municipal Chief Executive of Ga East Municipal Assembly commended Academic City and its partners for executing free health screening to promote healthy living in the community.
"Academic City University College has demonstrated its commitment to promoting the health and well-being of its community members. The university's efforts to support healthy living practices are crucial, as they can help individuals lead happier, more productive lives and contribute to the overall success of the university community. I encourage everyone to take charge of their health and embrace preventative measures," she said.
One of the participants said, "I am so grateful to Academic City for organising this free health screening. It gave me the opportunity to check my health status and get advice on how to maintain a healthy lifestyle."
The university has previously organised wellness seminars and other health-related events. The free health screening event is just one of the many initiatives undertaken by the university to promote health in the local community. It is anticipated that the event will inspire community members to prioritize their health and adopt healthier lifestyles.