Full-time Offer at Goldman Sachs' London Office
Nana Boadi Twumasi-Ampong, a recent graduate of Academic City University College, accepted a full-time offer at Goldman Sachs' London office in his fourth year. Goldman Sachs is a global investment banking, securities, and investment management firm.
Before this offer, he interned in Goldman Sachs' London office as a summer analyst in the Global Markets Division. This competitive opportunity allowed him to work with other interns and employees from around the world and to learn about the dynamic environment of finance. He is a member of Academic City's class of 2022 and majored in Marketing during his time in the university.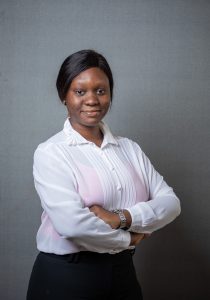 In addition, Ms. Daniella Omenogor, a Level 300 Computer Science student, was chosen as one of the few brightest students worldwide to intern in Goldman Sachs' Birmingham office this summer. She successfully attained an internship offer after a tough application process and a series of challenging interviews tailored to her division in Engineering.
Since Academic City's inception, the university has committed to changing the narrative of higher education in Africa by providing unique, world-class educational experiences for our students. At Academic City, innovation and entrepreneurial thinking are at the core of students' functional learning and development. Thus, it offers the ultimately designed offerings to create leaders and innovators.
The university offers elite undergraduate degree programmes in Engineering, Information Technology, Business Administration, and Communication Arts. These programmes are strategically designed taking into consideration world-class STEAM education to develop students to become practical, hands-on, and ideate.
Commenting on the development, Nana Boadi remarked "I recognise that the 1:1 teacher to student ratio, flexible practical learning environment, and tailored career service at Academic City equipped me with skills to be able to contribute and participate in the global environment personally and professionally", Nana Boadi said about his studies.
According to him, "The practical knowledge and skills I obtained during the completion of my program was extremely helpful in assisting me to be successful during my time as an intern at Goldman Sachs and consequently converting the internship into a full time".
He continued, "I can't say enough of how wonderful my experience at Academic City has been as it provided me with an excellent academic and practical learning in a fun, collaborative, and engaging approach".