Former President of Ghana, John Dramani Mahama has challenged Academic City University College to seize further opportunities to enhance and promote STEAM education for the country's development.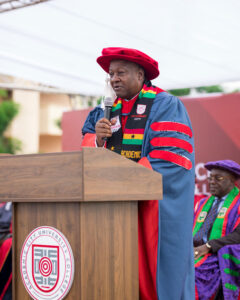 In his address as the Keynote Speaker at Academic City's 2023 Graduation Ceremony, the Former President emphasised the significance of STEAM education, recognising its ability to provide a holistic approach to education. He stressed the importance of breaking down traditional silos and cultivating interdisciplinary knowledge and skills.
He stated that without quality education, our nation's natural resources, such as land, sea, minerals, and forests, would remain unused, underutilised or exploited; causing severe environmental and socioeconomic consequences that would impede the nation's progress.
He urged graduates to avoid the unhealthy temptation of using leadership positions to promote personal or sectional partisan interests to the disadvantage of the organisation or the nation they have been chosen to serve.
"You should also not use your leadership roles to victimise and settle personal scores but must unite and develop our country," he added.
"Do not join these self-centered models of leadership, but I expect you to provide leadership that will strengthen the public service, promote competent-based staff engagement and strengthen systems in both the public and private sectors," he added.
The Former President also lauded Academic City University College's recent accomplishments. The university was recently ranked second in Ghana and fifteenth in Sub-Saharan Africa by The Times Higher Education.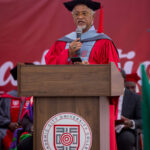 Mr. Dev Varyani, the Founder of Academic City University College shared that "Our unwavering commitment to fostering a rich learning environment centred around STEAM, Entrepreneurship, and Ethics, has truly shaped a winning formula for any student who joins our academic family."
He said these past four years have been a journey of growth, self-discovery, and academic excellence.
The Founder said the skills and connections graduates have forged at Academic City will undoubtedly propel their careers and pave the way for their dreams to be fulfilled.
"As you step out into the world, armed with the knowledge, passion, and determination you have acquired, take your exciting ideas and innovations to the global stage. Make your country and your college proud by leaving an impact on society," he added.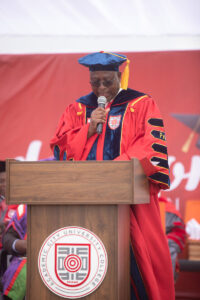 Prof. Fred McBagonluri, President of Academic City, said the university had fostered and shaped the students into individuals who were resilient, compassionate, and intellectually inquisitive.
"We have faith in your capacity to have a significant effect on the world around you," he said.
He urged them to embrace naive optimism, view setbacks as stepping stones, cultivate meaningful relationships, and engage in playful anarchy.
Mr. Michael Luguje, Director General of the Ghana Ports and Harbours Authority advised the graduates to build a career around the values of humility, discipline, integrity, hard work, dedication, and teamwork.
"Choose a career you have passion for and that best fits your vision and strengths. Stick to your values, set high standards, and always believe in yourself. Be ambitious, but do not allow the quest for fame and wealth to drag you into the wrong company and illicit activities," he said.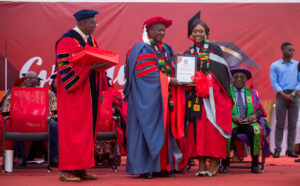 The Overall Best graduating student award went to Ms. Daniella Ishioma Omenogor, a Computational Science Student.