Level 200 Biomedical Engineering students of Academic City University College have demonstrated their commitment to innovation by designing and manufacturing an innovative infusion stand. This medical device provides a new dimension of support for healthcare delivery in Ghana, as it is both mobile and adjustable.
The concept for this innovative infusion stand was born out of a desire to address the challenges healthcare providers face in managing intravenous (IV) therapy. Traditional infusion stands often lack the flexibility and mobility needed to suit the changing needs of patients and medical personnel. In response to these limitations, Academic City students set out on a journey to develop a versatile and user-friendly solution.
In healthcare delivery, the innovative infusion stand is a game-changer. It not only has durable wheels for ease of mobility, but it also has an adjustable height feature, allowing health workers to tailor it to the patient's individual needs. This versatility ensures that IV medicine may be provided precisely, comfortably, and efficiently, contributing to patients' general well-being.
In the spirit of community service, the students have donated the first 10 infusion stands produced to the Ga East Municipal Hospital and the Agbogba Community Clinic, marking a significant step towards improving healthcare delivery in the community.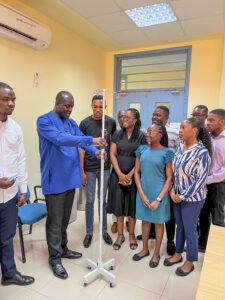 Receiving the medical equipment, Dr. Ebenezer Oduro-Mensah, Medical Superintendent Family Physician at Ga East Municipal Hospital, congratulated the students for developing such innovative medical devices that will help to support administering quality healthcare to patients in the community.
"These adjustable infusion stands will significantly increase our ability to give high-quality care to our patients", he said.
Dr. Fabian Samlafo, Medical Head at Agbogba Community Clinic expressed his gratitude to the students of Academic City for their creativity and generosity.
"Our students have demonstrated ingenuity and a strong commitment to improving healthcare delivery. This infusion stand exemplifies the strength of interdisciplinary teamwork and the ability of young minds to effect positive change," Assistant Lecturer in the Engineering Department at Academic City, Jacob Quarshie said.