Graselda Anning Boateng, a 2023 National Science and Math Quiz representative from Kumasi Anglican Senior High School, has been granted a full scholarship by Academic City University College in recognition of her commitment to advancing society through multiple community service activities. She will enrol in a four-year BSc in Biomedical Engineering programme.
Her extraordinary achievements extend beyond her academic interest. She has given back to her community by volunteering with groups such as the Red Cross, Planting for Food and Jobs, Girls Scouts, Peer Education, and the KASS Robotics Club, among others.
Graselda's story is an inspiring one, as she hails from a disadvantaged community in the Ashanti Region. Her goal in studying biomedical engineering is to have a deeper comprehension of the human body so that she may develop innovative medical devices to solve crucial health challenges.
Moreover, Graselda is not only committed to her own academic journey but also aspires to create opportunities for girl child education, offering support and inspiration to young girls in her deprived community. She epitomises the spirit of resilience, determination, and a resolute commitment to improving the lives of her neighbours.
This scholarship demonstrates Academic City's commitment to nurturing young Africans to reach their full potential. Graselda's passion for science and her desire to make a meaningful impact in the field of healthcare perfectly align with the university's mission to foster innovation and community service.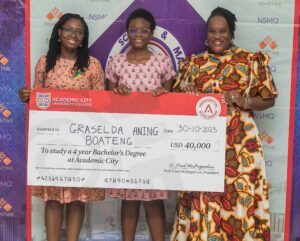 "We are confident that Graselda will certainly achieve amazing milestones within the Biomedical Engineering space and beyond. Academic City is excited to be a part of her journey, and we look forward to providing her with the necessary support to empower her to make contributions to society," Shannan Akosua Magee, Director of Admissions at Academic City.
The Academic City Presidential Scholarship Award, valued at $40,000, is granted to students in recognition of their exceptional academic achievement coupled with leadership acumen and entrepreneurial spirit. This scholarship is highly sought after and only awarded to the most exemplary and deserving candidates.
The scholarship covers tuition, housing, meals, a laptop computer, a monthly stipend, and twice-yearly transportation to the student's homeland.