Academic City University College Commits to SDGs
As part of measures to support the drive towards the realization of the Sustainable Development Goals (SDGs), Academic City University College has launched a project dubbed "Sustain City Project" to help address SDGs 6, 8 and 11. 
The Sustain City Project, a sustainable plastic waste management programme, is an initiative of Academic City's STEMEP Club in partnership with Mckingtorch Africa. The project consists of recovering plastic waste generated, documenting the data with a weighing programme, entering the data into a plastic waste global marketplace software, aggregating the recovered waste, selling it to recycling companies, and using some of the proceeds to launch a community buy-back initiative.
It is expected that the project will encourage communities, especially women and youth, to bring plastic waste in exchange for money while considering appropriate plastic waste reduction strategies for the Ghanaian community.
The event brought together representatives from the Ministry of Environment, Science, Technology and Innovation, the Council for Scientific and Industrial Research, Ga East Municipal Assembly, Ghana Recycling Initiative by Private Enterprises, Voltic Ghana, and Mckingtorch Africa, among others.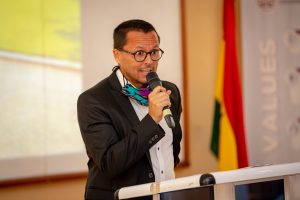 Speaking at the launch, H.E. Gregory Andrews, Australian High Commissioner to Ghana, commended Academic City for developing the "Sustain City Project," which will significantly contribute to resolving the plastic waste menace in Ghana.
The ocean produces 70% of the world's oxygen, but 8 million tons of plastic end up in water bodies each year. This is causing catastrophic climate change on earth. According to the UNDP, if proper plastic waste management measures are not implemented, there will be more plastic in the oceans.
STEM is very critical in addressing the issue of climate change. "We need to develop new technologies to keep the planet safe and secure from plastic-related issues," H.E. Andrews stated.
He was optimistic that the innovative "Sustain City Project" will go a long way toward encouraging people to properly dispose of plastic garbage.
Dr. Francis Boateng Agyenim, Director of CSIR-Institute of Industrial Research, who spoke on behalf of the Minister for Environment, Science, Technology, and Innovation, noted that the government is developing a pilot project that will effectively collect plastic waste for recycling and reuse purposes at the municipal level.
"The Ministry of Environment, Science, Technology, and Innovation acknowledges the "Sustain City Project" and plans to adopt the giant receptacle as one of the pilot projects in the assembly," he announced.
Prof. Fred McBagonluri, President and Provost of Academic City, called for the introduction of Sustainable Development as a programme at tertiary level to help facilitate the realization of the UN Sustainable Development Goals.
According to him, "The issue of sustainable development tends to apply to every facet of human endeavour and must be given critical and necessary attention."