The Robotics Club of Academic City University College organized its annual Tech Expo event to showcase the latest innovative technologies and groundbreaking ideas in the field of agriculture. The event provided a platform for students, faculty members, and industry experts to exchange ideas, network, and explore the latest trends in technology.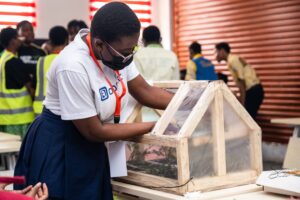 The event, which was on the theme "The Role of Technology in Sustainable Agriculture," aimed to promote and highlight the various technological advancements that will help shape Ghana's agricultural industry. The event provided a platform for students and industry professionals to showcase their innovative projects, research, and ideas.
The Tech Expo, hosted and coordinated by the Technology and Entrepreneurship Center (TEC) was organized by the university's Robotics Club, featured several innovative solutions, such as AI-powered crop monitoring and IoT-based irrigation systems, as well as interactive displays and exhibits, such as a virtual reality booth, a robotics showcase, and a drone display. The attendees included PRESEC-Legon, Adisadel College, Methodist Girls SHS, Aburi Girls SHS, St. Thomas Aquinas, Alpha Beta, Leklebi SHS and Accra Academy.
Other participants were Ashesi University, KNUST, Accolm, Innovtech STEM Centre, RoTech Academy, Fortress Ghana, Kosmos Innovation Centre, Voltic, Arm Engage, Makelab and Makerspace.
Academic City University College is committed to providing its students with opportunities to showcase their skills and connect with industry leaders. The university plans to continue its efforts to foster innovation and technology development among its students and stakeholders, with the hope of inspiring the next generation of tech leaders.
The President of Academic City Robotics Club, Louisa Ayamga remarked, "The Tech Expo event was a great success, and it highlighted the creativity, innovation, and technical expertise of students and industry. We are proud to provide a platform for students and industry to showcase their technological inventions that are shaping the future of the agricultural industry"
According to her, the event also provided a platform for academia to collaborate with industry professionals to develop practical solutions to real-world problems.
The event received overwhelming positive feedback from attendees, who praised the university's commitment to promoting innovation and excellence in the field of technology.
Some participants expressed their satisfaction with the event, saying, "The Tech Expo was a huge success, and we are proud to have been part of it. We had the opportunity to learn and exchange ideas with some of the brightest minds in the industry, and we look forward to more such events from Academic City."